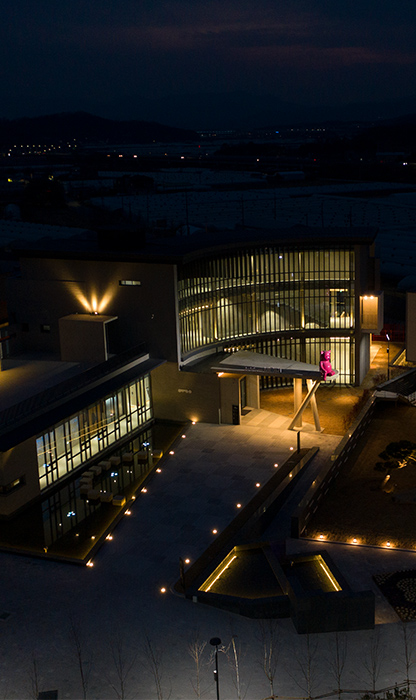 Artrium MORI
Architects

Wooseong D & A_Kim Dong yeon + KASE Design Group_Noh Kyung woo

Design Team

Yeo Hye kyeong, Kwon so hyun, Kim young jae, Seo hye ryung

Construction

Hyun-CHang Construction Co., Ltd. Park Kyoung Woo, Kim Young Seok

Location

1089-2 Yuwolri, Wolhang-myeon, Seongju-gun, Gyeongsangbuk-do

Site Area

2,479.00㎡

Building area

793.74㎡

Gross Floor Area

1332.68㎡

District

Planning and management area

Bldg.Scale

B1/3F Structure Reinforced concret

Floor

Tile, Transparent epoxy

Wall

Exposed Concreat, Tile, Interior Film, Painting

Celling

Painting

Exterior finishing

Durastack S500 Basic Gray (Wide Brick), T-30 Geochang Stone Grinding, T30Goheung Stone Grinding, exposed concrete Water repellent coating

Roof finishing

T0.7VM Zinc

Photo

CA CONCEPT_James Jeong

Branding

NEWMAKE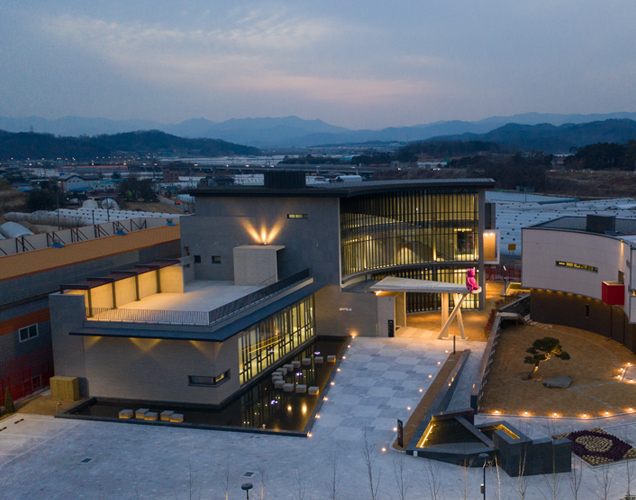 빛을 머금은 공간
---
빛을 머금은 공간인 아트리움 '모리 . MORI (숲)'는
빛을 품어서 정적이며, 아늑한 공간이 연출된다.
1층 갤러리의 색상을 웜그레이 톤을 사용하여 차분하고
편안하게 갤러리를 관람 할 수 있도록 하였다.
2층은 간결한 조형미, 절제된 요소를 통해
모던한 디자인으로 설계되었으며,
공간 속 조형 요소와 포인트 컬러로 변화를 주어
공간을 보는 재미가 있다.
공간에 빛이 머무르듯,
사람이 머물러 함께 만들어가는
복합 문화공간의 역할을 톡톡히 해낼 것이다.

Space filled with light
---
Atrium 'Mori', a space filled with light.
'MORI (forest)' embraces light, creating a quiet and cozy space.
Warm gray tones are used for the color of the gallery on the first floor so that you can browse the gallery in a calm and comfortable manner.
The second floor was designed with a modern design through simple aesthetics and restrained elements, and it is fun to see the space by changing the formative elements and point colors in the space.
Just as light stays in the space, it will play its role as a complex cultural space where people stay and create together.
---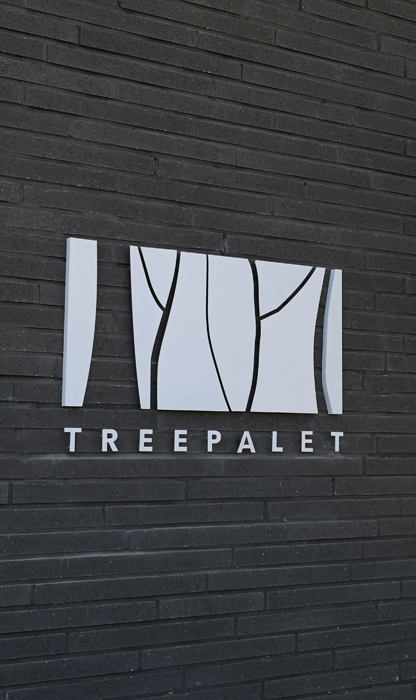 Cafe TREEPALET
Architects

Wooseong D & A_Kim Dong yeon + KASE Design Group_Noh Kyung woo

Design Team

Yeo Hye kyeong, Kwon so hyun, Kim young jae, Seo hye ryung

Construction

Kwan soon il, Kim dong woo, Yu Hye chul

Location

089, Yuwol-ri, Wolhang-myeon, Seongju-gun, Gyeongsangbuk-do

Site Area

1,341.00㎡

Building area

437.40㎡

Gross Floor Area

582.26㎡

District

Planning and management area

Bldg.Scale

2F

Floor

Tile, Transparent epoxy

Wall

Exposed Concreat, Tile, Interior Film, Painting

Celling

Painting

Exterior finishing

Terracotta(FAVEMANC:파베망), Durastack S500 Basic Gray (Wide Brick), exposed concrete Water repellent coating

Roof finishing

T0.7VM Zinc

Photo

Concept_James Jeong

Branding

NEWMAKE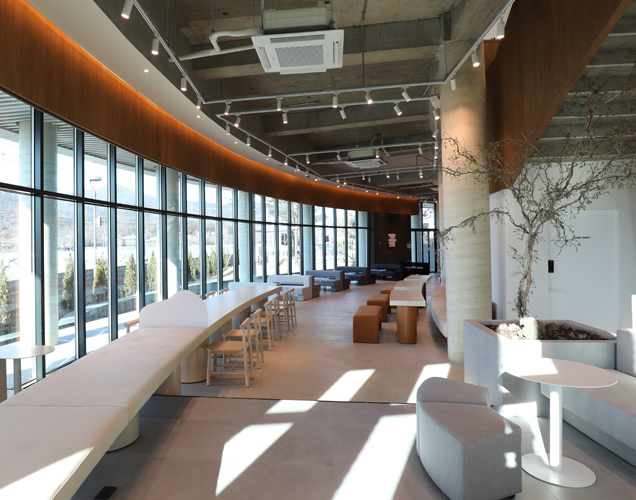 시선, 한 곳에 머무른다.
---
도시에서 보는 일상 속의 시선은 너무 답답하며,
한 곳에 집중할 수 없을 정도로 빠르게 지나간다.
도시에서 벗어난 곳에서 자연을 바라보면 그 자체만으로
힐링이 되기도 한다.
카페 '트리팔렛 . TREEPALET' 은 편안한 느낌과
힐링이 될 수 있는 공간에 초점이 맞춰져 있다.
실내 마감 재료 본연의 질감을 그대로 느낄 수 있도록
설계를 하였으며, 카페에 머무는 동안
따뜻하고 느릿하게 휴식을 취할 수 있도록 하였다.
또한, 공간의 배치를 딱 떨어진 정형화된 형태보다
자유로운 곡선의 형태로 하여,
시선이 자연스럽게 한 곳에 머물게 된다.
시선의 방향이 자연에 머물기도, 나에게 머물기도,
소중한 사람에게 머물기도 하며
진정한 '쉼'이 있는 공간이 될 것이다.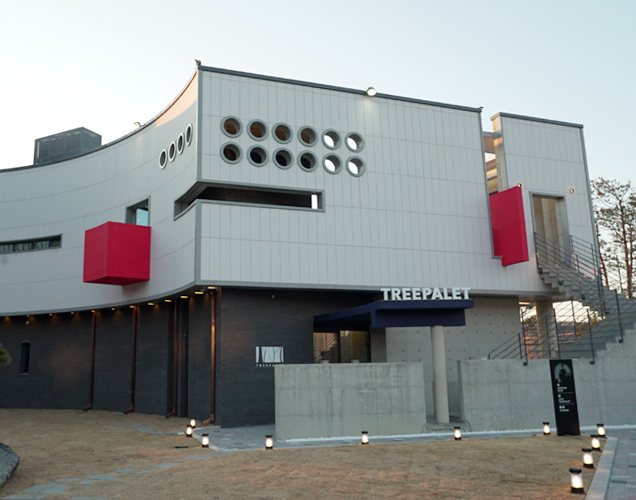 Eye gaze, stay in one place
---
The gaze of daily life in the city is too stuffy and passes so quickly that it is impossible to concentrate on one place.
If you look at nature from a place away from the city, you can be healed by itself.Cafe TREEPALET' is focused on a space where you can feel comfortable and heal.
It is designed so that you can feel the original texture of the interior finishing materials as it is, so that you can relax warmly and slowly while staying at the cafe.
In addition, by arranging the space in the form of a free curve rather than a standardized form that is just apart, the gaze naturally stays in one place. The direction of the gaze stays on nature, it stays on me, or it stays on the important person, and it will become a space with true 'rest'.